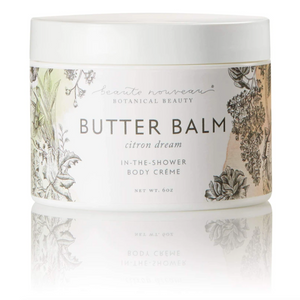 Beaute Nouveau
Butter Balm - Citron Dream
Regular price
$36.00
$0.00
We lovingly refer to this product as "Lotion for Lazy People" because we know that rubbing in sticky body lotion after a shower is the last thing we take time for. So, we have created our Butter Balms to be used while you are STILL...IN... the shower. This is SHOWER LOTION, ladies. You put it on IN THE SHOWER. The rich ingredients will trap the water that is already on your skin, and the warmth of your skin will melt the Balm into your skin like "butter on a hot pancake". It takes less than a minute, a little goes a long way, and your skin will be so soft. Seriously, it's a life changer.
Scent Description: CITRON DREAM IS ALL ABOUT THE CITRUS. It is a sweet and bright mix of Lemon, Lime, Pink Grapefruit, Sweet Orange, and Tangerine Essentials Oils.
Ingredients:  Apricot Kernel Oil, Grape Seed Oil, Organic Glycerin, Babassu Oil, Shea Butter, Kokum Seed Butter, Essential Oils of Pink Grapefruit, Lemon, Lime, Sweet Orange, and Tangerine.

Directions: Massage Balm directly onto cleansed, wet, warm skin, right before you step out of the shower. Lightly rinse and then towel dry. For external use only. Do not ingest. CAUTION: PRODUCT MAY CAUSE BATH SURFACES TO BE SLIPPERY.
---
More from this collection