Happy Monday! The sweet summer dresses, not so basic tees, golden tanks and stripes have me going gah gah over our current collection. The tommy dress in particular, below, is just the PERFECT t-shirt dress. I had shopping appointments with two incredible women this week, and while talking through the options we have in the boutique, we discussed where they are headed, what they are wearing, goals they are working toward, how they are supporting themselves... has me feeling blessed to be in such stellar company. Thank you for shopping with me, and please reach out if you'd like to...
---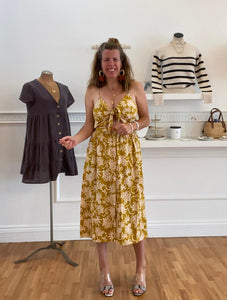 THIS DRESS! Today I popped into the boutique and tried on the pieces I will feature in tomorrow's live trunk show. I had to snap a pic and share with you. This photo is low res, and all kinds of imperfections, just like my beautiful self, lol, but I LOVE this dress. I love the fabric, the print, the pockets and more than anything, I loved how my mood changed when I got dressed, I danced out of the fitting room! I was literally transported, I haven't been braless in a summer dress in a long time, and I felt...
---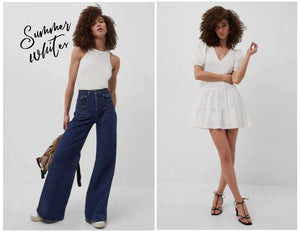 May Grey... goes well with summer whites. That's a fresh perspective for me. Grey days can really get me down, especially in May when my Michigan roots have me beyond READY for Summer. San Diego has had me all confused in years past, like WHAT?!?! Why is it getting cold and dark when it's supposed to be the Month of Spring I've been waiting all winter for...Today, of course, is gorgeous, and on my best day I can look at a storm, appreciate it's parts: the before during and after... and today is one of those days, where I'm feeling...
---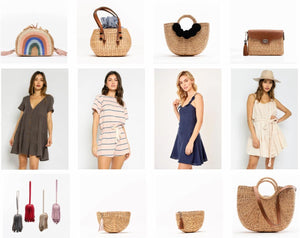 Monday Monday... It's raining here, and while I was loading my new dish washer (a chorus of angels was singing AMEN and I could feel the wet breeze on my face from the window. I sighed and said thank you. It's really lovely when you work toward a goal, achieve it AND really enjoy it moment after moment. This is me in my new home. Grateful, present, and wanting to share:) There's a spring in my step to be sure, and I'm certainly feeling it at the boutique as well. Look how beautiful our new pieces are! These beauties just...
---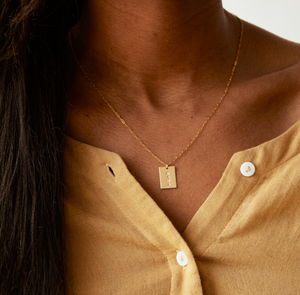 Happy Friday! Today I had a really fun live trunk show on instagram featuring Able jewelry, a company that concerns itself with reducing poverty, empowering women, and supporting small businesses like mine with creative collaborations during a challenging year. I'm grateful, and I LOVE their pieces! The necklace above, along with many others we carry, can be personalized. What a wonderful way to notice, commemorate and honor someone's experience. A date, a name, a word, an intention, a wish, a truth... Some of the personalized messages people order are foreign to us, we have no idea what they mean, because...